5 SEO Tips Critical To Gain Traffic in 2021
If you can get it right, Search Engine Optimization (SEO) is a great way to attract customers to your offerings. But SEO is constantly evolving, and keeping a track of all of the changes can be a bit challenging. In this guide, we have compiled a few key trends you might want to watch out for in 2021 to build a strong SEO strategy.
Let's dive right into it.
1. Voice Search
Voice-based smart speakers like Amazon's Alexa, Google Assistant and Apple's Siri have an important role to play in your SEO strategy. As Indian households welcome more smart technology, voice search is bound to impact search queries. Amazon Echo devices is currently the leader in the Indian market with Amazon Echo Dot third generation being the most sold smart speaker in July-September 2020 with a 53% of the market share.
According to a study conducted by Accenture, Indian users report a 97% satisfaction rate, which is also the highest in the world.
The trend of smart speakers is clearly catching up in India, and you must prepare for it.  So how do you prepare for it? Use more natural-sounding phrases and longer keywords. When people type, they tend to keep their search keywords brief, but when they voice search, they speak it out completely. For example, a person might type "vegan bakeries around me" but when voice searching, they will say "Which are the vegan bakeries around me?"
2. Mobile-Friendliness
Nearly 73% of internet users will access the internet solely via a mobile device by 2025. That is around 3.7 billion people.
In 2019, Google brought in mobile-first indexing, meaning Google will consider the mobile version of the website as the primary version instead of the desktop version. So, if your website is still not mobile-friendly, then 2021 is the year you finally do it (ask us how).
Make sure Google can crawl your URLs to ensure user-friendliness, and use the same meta robot tags on your mobile and desktop versions.
Here's a free mobile-friendly test from Google that you can use to check the mobile-friendliness of your website.
3. Long-Form Content
If you want higher search rankings, focus on long-form content. When you write a good quality long-form content, your audience spends longer time on your page to read it. The longer the time your audience spends on your page, the happier Google gets. Longer time on the page means your content is interesting, informative and relevant – so search engines bring more traffic your way.  
You also need to build many links to make your content visible online. According to Backlinko, long-form content gets an average of 77.2% more links than short articles. And HubSpot says that articles with a word count over 2500 earn the most links.
According to SEMrush, long reads of 3000+ words get three times more organic traffic than articles of 900-1200 words. As far as social media is considered, 2500-word posts get share three times more than 1000-word ones, according to Buffer.
So, what makes long form content desirable?
Long form posts are packed with valuable content. And when someone comes upon something useful and valuable, they share it. Thus, serving your needs of building organic traffic.
Long form content gives you an opportunity to have multiple CTAs and break up your content into sections that are easily scannable.
4. Featured Snippet
Google rolled out its Featured Snippet in 2017. Featured snippets are the content in a box that show at the top of the actual search results. Here's an example.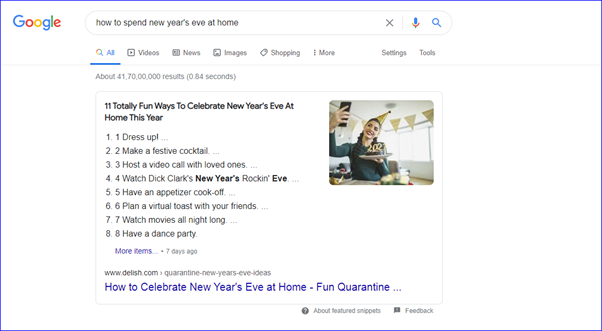 Featured snippets are a great way to beat your competition. The section shows a chunk of information condensed in bullet points, how-to guides, videos, etc. When you plan to create featured snippets, focus on questions your audience might be asking or use Google's "People Also Ask" for some inspiration.
Question-based queries are what packs the punch in the featured snippets section. Now answer these questions with your content. Then optimize your content for the purpose of the snippet. This is what that will look like:
Paragraphs (249 characters in average)
Lists (6 items in average & 44 words in average)
Tables (5 rows in average & 2 columns in average)
Videos (6 min in average)
There are tools that can help you identify featured snippets opportunities for your desired keywords and make your featured snippets report like Position Tracking by SEMrush.
5. Local Search
Local businesses are going online and customers are going to find them if they do their local SEO right. According to HubSpot Marketing Statistics, 72% of consumers that did a local search visited a store within 1. 6 KM.
According to Chat Meter, 46% of all searches on Google are local. Local SEO search listings play a big role in your SEO strategy. This means you should optimize your online presence to bring more traffic from local searches. Start with Google My Business page.
Now focus on Google's Snack Pack. Wondering what that is? Take a look at the image below.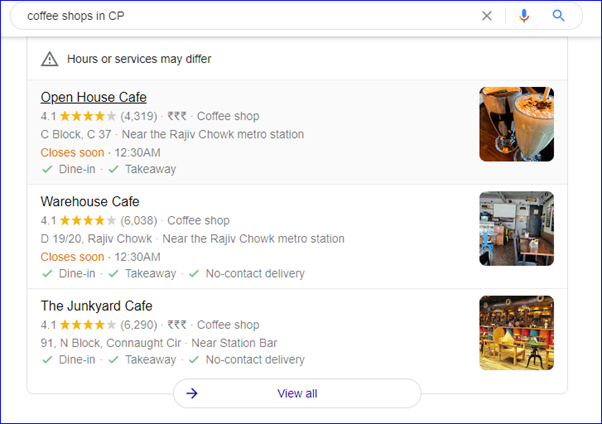 Google's Snack Pack is basically the three local business listings that gets displayed above the organic search results. The business listings on this boxed area appears whenever a local online search is made on Google. The Google Snack Pack box displays business details such as the business name, description, website, categories, number of reviews, star ratings, location, contact details, business images, and business hours.
If you have multiple locations and want to rank in each of those, it would make sense to have landing pages specific to each location. Structure your website to rank local pages, and optimize your home page for your primary location.
There is a lot that you need to do for a successful Search Engine Optimization strategy – rank tracking, competitive research, on-page SEO, technical SEO, link building, and much more. With the new trends, you will have to think about everything from local SEO to voice-based searches.
By the way, this blog is a great place to keep yourself up to date about the goings-on in search engine optimization. Share, comment, or get in touch with us for your business goal.
---
---