Ultimate Social Media Marketing Trends For 2021 To Win Your Customers
Are you a company or a marketing professional looking for insights to get your marketing plans on the right track? We've compiled the top social media marketing trends for 2021 to help you create consumer-insights-driven strategies for your brand. This blog include predictions from industry experts along with insights from a recent study from Talkwaker and

Hubspot

.
SEO & Reels on Instagram
In November 2020, Instagram announced that it would become more search-friendly. Now if you search for posts, profiles, videos, etc. in the Instagram search bar, it would show you the results, without the use of hashtags.
In 2021, this is going to be a game-changer. This gives marketers an opportunity to get more reach on their posts organically.
Wondering how to take advantage of this for your social media marketing? Here's how:
Add relevant keyword to your post captions that can help Instagram identify your post when people search for related topics.

Make sure your profile is relevant to your niche. If you run an Instagram account for your bakery shop, focus only on posting content about cakes, pastries, pies, etc. Don't venture into unrelated category.

Add relevant keyword to your bio. E.g. Madhu Roy | Baker.

Follow similar accounts.
Another Instagram feature that you should keep your eye on is Instagram Reels. Launched as a competitor to TikTok, Instagram Reels allows users to make quick, creative and attention-grabbing videos of 15-30 seconds.
With TikTok banned in India, Instagram Reels are the way forward for marketers. If you were an active TikTok user, IG Reels will be an easier transition for you. However, if you aren't sure where to begin, simply watch IG Reels of other people or brands, take notes on which sounds are the most popular, and create something for yourself.
Here are some tips for your first / next Instagram Reels:
Instagram Reels of 15 seconds perform better than those of 30 seconds. So,

make a 15-second content for IG Reels so that your full content is viewable in the Preview Mode itself

to the audience without them having to click on See More.

Add text to your IG Reels video content to up the watch time.

Write a caption that encourages your audience to share or save your IG Reels.
Remember IG Reels are outperforming IG Stories. So if you haven't already, 2021 is the time to embrace them for your social media marketing.
Conversational Social Media Marketing
2021 is going to be the year where more and more online conversations will be of value than soul-less marketing. Brands will no longer put their content out, and not pay attention to how they are being received.
Audiences have become more socially conscious, and during the pandemic, people care less about the product than the value of relationship they share with you. To create a valuable customer experience strategy, remember all conversations from 2021 onward are going to be a two-way street.
Connect with your customers where it matters the most for them.
How can you create conversational marketing for yourself or your brand's social media marketing?
Here are a few ideas:
Use live-streaming video platforms to show the human side of your brand

Conduct social media listening to help you listen and respond in real-time

Use social media to build more authentic connections
Remember that conversational marketing isn't new. It's been around for some time. However, 2021 will not be about making conversations to increase sales. It will be about emoting, engaging, relating and responding.
Tell your audience that you're not a robot.
Social Media Shopping
Consumer behaviour has changed drastically post-pandemic. The pandemic has created a "new normal" that has taught brands how to do business through social media channels like Facebook, Instagram, WhatsApp, Twitter, etc.
Industry experts predict that meditation classes or therapy sessions will happen through Instagram Lives or Zoom calls, your lawyer may offer mediation online, and your neighbourhood chemist will offer doorstep delivery. Contactless services will continue.
What does this mean for you?
It means your product needs to be as good online as it is offline.
Facebook and Instagram have integrated in-app purchases where the customer doesn't even need to leave the social media channel to make a purchase.
Here's how you can ease their scroll and shop process:
Sign up for Facebook shopping to use Facebook Shops and Instagram Shoppable Posts

Set up retargeting ads to capture the traffic that visited your profile
If you don't have the budget to make your own e-commerce website, using these online shopping tools will give you an opportunity to sell your products online.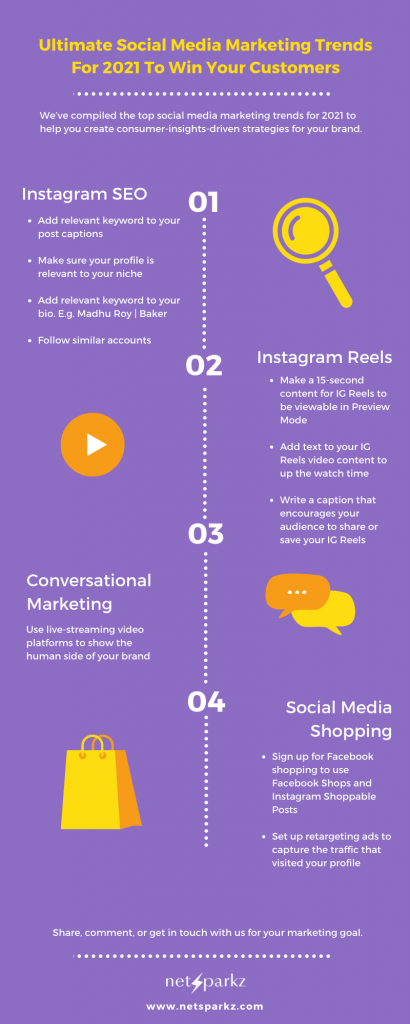 This is in no way an exhaustive list. And with things around us changing so constantly, the best you can do is keep up to date about the social media marketing trends and online consumer behaviour in order to navigate your social media marketing strategy.
By the way, this blog is a great place to keep yourself up to date about the goings-on in social media marketing. Share, comment, or get in touch with us for your business goal.
---
---